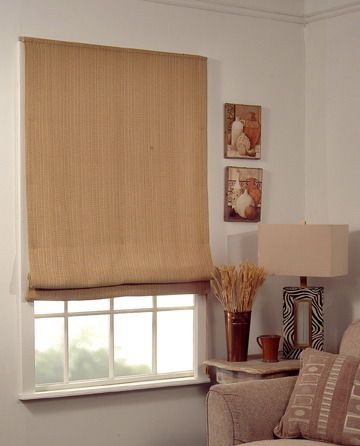 The Plantation Shutter Company's shades are available in a wide variety of colors, styles, and materials. While most are manufactured from fabric, we have a nice selection of window coverings that are made from woven woods like bamboo and reeds. Inspired by tropical Caribbean designs, these materials make any room feel warm and cozy. As the first choice for window treatments in the Carolinas, we proudly offer a shade solution to suit every type of home and enhance every style of décor.
The Plantation Shutter Company's Roman shades will completely transform your home, giving a look of beauty and distinction to any room. You can choose from a wide variety of fabrics, ranging from sheer sun filters to dense fabrics, and from traditional to modern designs.
We have a wide variety of Cell shades in six different groups comprising scores of colors. Cell size ranges from 7/16" to 12/16" and you can choose from full sheer to opaque. As an additional perk, these custom shades can be motorized for ease of use and convenience.
Woven Wood Interior Shades
Our woven wood shades are made from a variety of natural materials, including bamboo, reeds, grasses, and a range of other natural fibers that will lend an ambiance of a tropical paradise to your room. The woven wood shades can be backed with a blackout liner for increased privacy and for eliminating diffused light. Additionally, you can choose between motorized or hand-operated options. These shades are complementary to our Polywood® or wooden interior plantation shutters and blinds, and come with a standard 7" valence.
The Plantation Shutter Company has an exclusive selection of roller shades that are available in a wide variety of colors, patterns, and fabrics. Textures range from full sheer to dense, leaving you to choose the amount of privacy and the light density that best suits your needs and your home's style.
Professional, Stress-Free Installation
We want to make the design and installation as simple and stress-free for you as possible. That's why our team of professional fitters handles the entire installation for your peace of mind. Check with our local representative to arrange measuring, production, and installation at a time that is convenient for you.
Arrange a Free Consultation To Get Started!
Ready to give your windows that treatment they deserve? Call The Plantation Shutter Company at (833) 823-3628 or reach out to us online for a free consultation. From measuring and production to the installation, we are here to assist you.
Love my Shutters
Love my shutters from Plantation Shutters!!! Thanks so much!!! Gayle, Marlin Quay Condos
Customer -
Very Impressed!
Very Impressed! Will do the rest of the house now after the first of August. Installation team was fantastic. Did exactly what you said you would do, when you said you would do it!! C.A. Pawleys Island
Customer -
Job Well Done
My wife and I wanted to pass along thanks for a job well done in installing new Plantation Shutters on our porch and our two guest bedrooms. When we moved here in July 2016 we decided to add Plantation Shutters to most of the windows in our home. You provided the same excellent sales and installation at that time. We delayed any other additions for a later date to have less of an impact on our budget. This year we had your business add Plantation Shutters to our porch and the guest bedrooms and we are thoroughly satisfied with the sales and installation. The shutters on the porch have totally changed the look of that space and all of this will no doubt add to the value of our home. Thanks again, Brian L Dowdy
Customer -