Custom Window Blinds in South Carolina
Increase Your Privacy and Control Natural Lighting
The Plantation Shutter Company has been offering window coverings since 1987, all over the Carolinas. If you're in South Carolina, chances are that you've seen our signature Polywood® Plantation Shutters on a home near you, but it's not just plantation shutters that we provide. We carry a wide range of window coverings, and our blinds are some of the best and most stylish available.
Our blinds are made out of high-quality materials and are custom-built to your specifications. From hardwood to metal and faux wood, you get to choose the material, determine the deepness of the slats, and even select from motorized options. No matter what your blind needs may be, we have something that will work for you. Find out more about what type of blinds are right for you and your home below, and choose the Plantation Shutter Company for your installation!
Blind Types For Your South Carolina Home
When it comes to choosing what type of blinds you want for your home, there are a few factors to consider since you want to be sure that you're getting maximum practicality and the best look possible. Here are some important notes to take into consideration before you decide which blinds are right for you and how vertical or horizontal blinds stack up for your home.
Where will you be using your blinds? It may seem like a little thing, but the window frame you're putting your blinds on is major in deciding on which blinds you need. This will affect the size of your blinds, how much natural light is available, and whether you want blinds that slide or rise.

Is privacy a concern? When it comes to choosing blinds, they all provide privacy, but some more than others. How much you care about being seen in the room you are in could affect slat size and whether you choose vertical or horizontal blinds.

How much do you like to clean? This is important to consider because the blinds will be a permanent fixture in your home and like any other item, it's going to collect dust and debris. That's another reason why picking your color and material accordingly is a good idea. You know yourself, so pick something that you can keep up with.

Is it convenient for your window? Opening and closing your windows and blinds should be an obvious concern, but some people still request Venetian or horizontal blinds for sliding doors and wide windows. For the ease of opening and closing both the window and the blinds, this isn't recommended.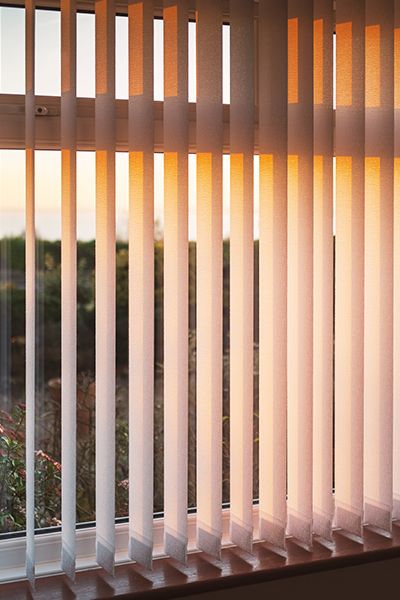 The Benefits of Vertical Blinds
Vertical blinds make an easy and attractive option for many people who have very wide windows or sliding doors. They offer easier protection for a larger window frame and are easier to use than extremely wide venetian blinds if you have a sunroom, a kitchen with a large sliding door, or a window that spans a large portion of the wall, then vertical blinds would be the perfect fit. Here are a few times you might want to use vertical blinds:
When you need them to be easy to clean — Vertical blinds are a better option in some cases because they make cleaning much easier. If you have a large living room window that needs covering, you could use multiple venetian blinds, but because they're so much smaller and have loops cutting through them, they'll be more of a hassle to clean.

In extremely sunny rooms — Occasionally, you'll see sunrooms with horizontal blinds, but it doesn't happen very often because it's simply not practical. Vertical blinds are ideal for opening, closing, and cleaning in a room surrounded by a window or windows. Even in rooms that are just particularly bright, vertical blinds can be a better option because they're almost always made of synthetics that won't crack or fade in the light.

If you have a wide windowsill — If you're lucky enough to have a window that's wide enough for you to set objects, or yourself down on, then vertical blinds would be the right call for ease of use. You can simply slide the blinds down using the handle, even while you sit.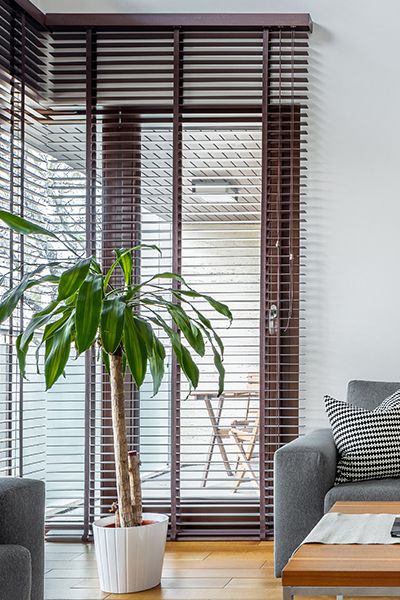 The Benefits of Horizontal Blinds
Horizontal blinds, or venetian blinds as they're sometimes called, are the choice for many rooms because of their ease of use and their practicality. They can often fit into even the smallest and most narrow window frames, they're more durable than vertical blinds, and they look great almost everywhere. Here are a few reasons you might choose horizontal blinds as opposed to vertical blinds:
If privacy is paramount — There are a few areas of the home where you might be ok if someone caught a glance of you, but there are others where vertical blinds might make you uncomfortable. Their tendency to sway or get stuck off-kilter makes them less ideal for more private areas.

For that awkward bathroom window — If you've got a window that has unusual dimensions, then horizontal blinds are best, as no matter the size of the window, you'll have space to comfortably move the blinds up and down. Vertical blinds are not as easy to customize for such small spaces and the lack of room can make them awkward to open if they are installed.

When you need them to last — If it really seems like a toss-up between venetian or vertical blinds, then maybe you'd prefer the choice that is going to last a bit longer. Due to the way the blinds are constructed, vertical blinds tend to need repairs and replacements more often than horizontal ones.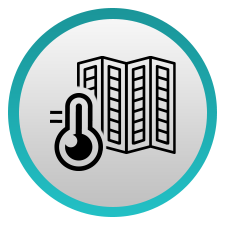 Reduce Heat Transfer
Save on heating costs by preventing the possibility of heat transfer from your windowpane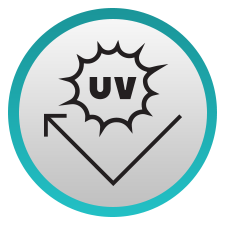 Block UV Rays
Keep sunlight from warming up your home.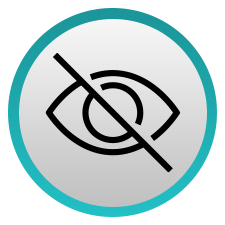 Increase Privacy
Keep wandering eyes out of your home.
Picking Materials and Blind Coloring
What Colors are Best for My Blinds?
After you've decided on whether you need venetian or vertical blinds, the next important questions you're likely to ask yourself are what material and color you'll be using. As with your style of blind, you'll want to make these decisions based on what works and feels best for you. This way, you'll have blinds that you can keep looking and functioning like new long after they've been installed.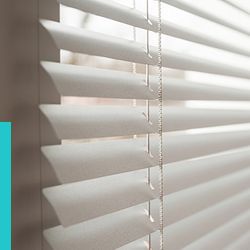 Metal
Metal, often aluminum, blinds are some of the most practical blinds available for many rooms of the house as they are cheaper than some other materials and they clean very easily. This makes them great for areas with a lot of utility. If you need blinds in your garage or shed, metal makes a great option. They also lend themselves well to minimalist interior designs.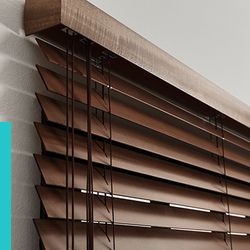 Hardwood
Hardwood is a great choice for anyone looking to add a little class or warmth to their living areas, as well as anyone who wants to guarantee privacy when their blinds are closed. Because they're completely opaque, that means that no one will ever be able to catch even a shadow of what you're doing. It's also the best insulator among blind options, keeping heat from convecting with cold air from the window pane and vice versa.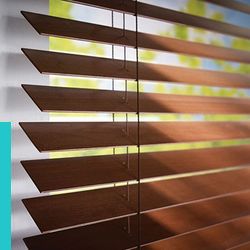 Faux Wood
Faux Wood — Faux wood is a good choice for someone who would like the look of hardwood but without the cost. In some ways, the material is more durable as well, because it won't ever fade in sunlight. Where it's not a great option is anywhere that you know you'll likely have high traffic or splatters. The often rigid material makes it harder to clean then some others, and if you get a colored option, then it will be hard to tell what's caked on. It could simply make your shutters dull over time.
What Colors are Best for My Blinds?
Like every other decision with your blinds, the best color for them will be determined by your tastes and needs. Here are some colors that we find best for certain situations: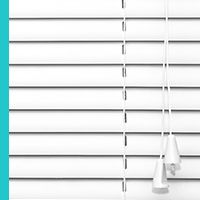 White — White is the most common blind color, partially because it can fit into many designs and partially because it's often the color that aluminum blinds come in. It's a great option for those that want a clean, sophisticated look, but it will require more cleaning than other options.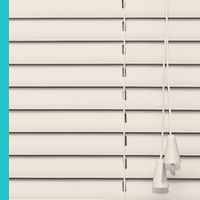 Off-White — A slightly off white option offers many of the benefits of white blinds, but takes away some of the drawbacks. It easily accommodates many styles, but it isn't as easy to tell when they've gathered just a little bit of dust. It works well with warm or cool colors, but doesn't have as much of an edge visually.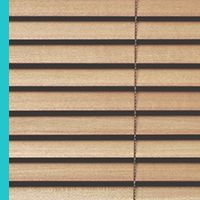 Light Wood Shades — For a beachy or bright aesthetic, the look of lightly colored wood blinds will compliment the rest of your kitchen, bathroom, or living room nicely. With about 70 different wooden blind finishes to choose from, you can find just the right shade for your home.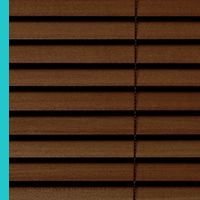 Dark Wood Shades — If you're creating a warm and cozy, or rustic aesthetic in your home, then there are various shades of dark wood that can help you perfect that. These blinds go great with the glow of a fire bouncing off them or to accent homes with darker color schemes.
Choose the Plantation Shutter Company for the Best in Blinds
We hope this has been a helpful guide in choosing the right blinds for you, and we hope to be the ones who get to build and install them. Reach out to the Plantation Shutter Company today to book your free estimate and start building your custom blinds!