Window Coverings To Protect Your Murrell Inlet Home
Stay Safe With Hurricane Shutters and More
Murrells Inlet, SC
Custom Plantation Shutters in Murrells Inlet, SC
When you are ready to enhance your home's or business's interior or exterior spaces into something truly special, then The Plantation Shutter Company is here to help you. From our in-home or virtual consultations to the design, crafting, and installation of your plantation shutters, blinds, and other window coverings, we make the entire experience simple, easy, and convenient for you.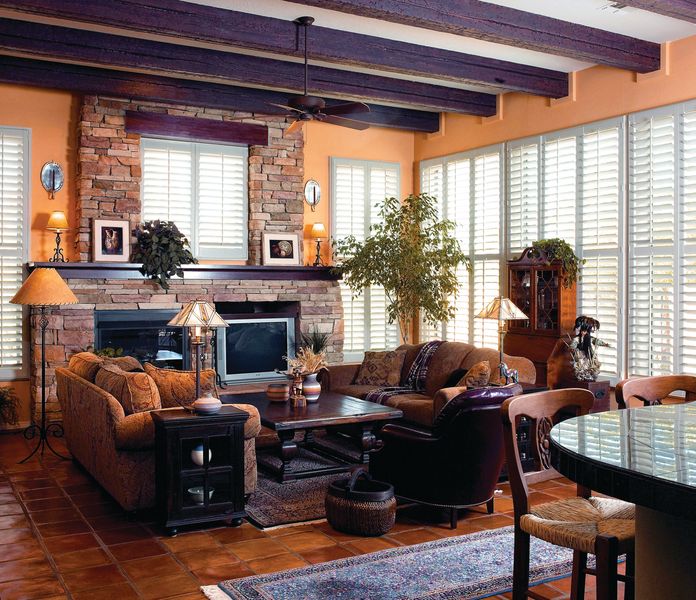 Custom Window Treatments Designed Just for You
We design our custom window treatments according to your needs, style preferences, and budget to ensure you get exactly what you want. We offer a wide selection of window coverings for your interior and exterior spaces, including:
Our Commitment to You
As a local, family-owned-and-operated shutter company, we are 100% committed to you. We're a community-focused business that is dedicated to designing, creating, and installing the very best custom window treatments. Since 1987, we have helped our friends and neighbors in the Murrells Inlet area and throughout the Carolinas find ideal custom window treatments that perfectly complement the style and aesthetic of their home or business.
Protect and Cover Windows With Blinds, Shades, and Shutters in Murrells Inlet
At The Plantation Shutter Company, we know how hard it can be for the average person to distinguish between the various types of window coverings, after all, not all of us have made them our life's work. There's a lot of ambiguity in the way people identify window coverings, but having the right shades, blinds, or shutters can make a big difference in a coastal area like Murrells Inlet. To help you make the right choice, here's a little more info on how to distinguish between window coverings and what we have to offer.
Exterior Shutters — Exterior shutters are going to make a big difference in your life if you live on the coast and experience violent storms or hurricanes. Depending on your level of concern and your area, you might choose wooden, hinged shutters for a more stylistic shutter, Bermuda shutters for protection and visibility, or metal hurricane shutters for the ultimate protection.
Plantation Shutters — We love these shutters. An interior window covering, plantation shutters are the most functional window covering available in many ways. As opposed to blinds or shades, plantation shutters offer both zero transparency and ultimate light and visibility control. They also offer superior protection from the elements, as their seal is tighter than other coverings and they're strong enough to hold back broken glass and other small debris. Available in a variety of shades and materials, we're confident we have an option to fit your interior and your practical needs.
Shades - Shades are the most aesthetically pleasing option in many people's eyes when it comes to interior window coverings. This is made possible by their materials. Usually one piece of continuous soft fabric, shades come in a variety of options that fold up or rollover themselves. Because of this, they offer a lot more room for texture, color, and print options. Aside from the aesthetic appeal, what really separates shades from blinds is the ability to control light and visibility to the room.
Blinds - Blinds are a functional option that come in a variety of styles and materials. Considered a "hard" window covering, most blinds are made with materials like wood, aluminum, or plastic, and the slats simply stack when you open them. When they are fully open, they don't provide nearly as much aesthetic value as shades, however, they can be easily modified so you can see as much or as little as you'd like and have the ability to "raise" or "lower" the lighting without sacrificing as much privacy as you would with shades.
Reach Out to Your Local Shutter Experts Today
If you are ready to enhance the beauty, value, and energy-efficiency of your home or business, then connect with The Plantation Shutter Company to arrange your consultation. Derrick Temple is the founder of The Plantation Shutter Company and area representative for Murrells Inlet, South Carolina.
Mr. Temple is originally from Florence, South Carolina, and received his bachelors' degree from Clemson University. He and his wife live in Murrells Inlet, where they raised their two sons. Mr. and Mrs. Temple are dedicated to community service and have been active in their community for years. Mr. Temple has over thirty years of experience in the shutter industry and is excited to use his knowledge and expertise to help his friends and neighbors find the perfect window solutions. His impeccable eye for design and style can enhance the look and value of your home or business in both the interior and exterior spaces.
Please call or email Derrick Temple to schedule a free in-home or virtual consultation to explore your window treatment options. We invite you to stop by The Plantation Shutter Company ShowRoom located at 11750 Frontage Road, Murrells Inlet, SC, 29576.
If you'd like a free in-home estimate, or just have a question, fill your information in the fields below and someone will contact you shortly.