Polywood® Plantation Shutters
The Plantation Shutter Company specializes in the design, manufacturing, and installation of Polywood® Plantation Shutters. These shutters have been installed in some of the top designer homes in the Carolinas since 1987, when the company was founded. Once installed, Polywood® Shutters enhance both the aesthetic and the real value of a home. They are an option that should definitely be at the top of your consideration list if you are either building a new home or renovating an old one.
Our Recent Projects | Bonus Room
Longer Lasting Than Other Shutters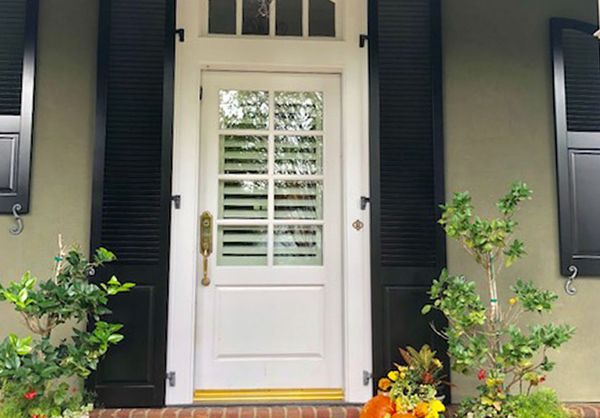 With Polywood®, you not only get the rich look of fine wood, but more importantly, you do not get the inherent problems that come with solid wood shutters. Polywood® simply performs better and lasts longer than traditional wood shutters. Our Polywood® Plantation Shutters are manufactured from a solid material that is resistant to both moisture and fire, and they cannot be penetrated by termites. They are as much as 70% more efficient in insulation than solid wooden shutters, 1600% more efficient than aluminum blinds, and are extremely strong. They are guaranteed not to distort or fracture, and during manufacturing have been tested against UL light and stabilized against UV light. This means that there is no chance of the fitted shutters becoming discolored. Their moisture-resistant property makes them ideal for fitting into a bathroom or kitchen, and meaning they can be used in humid coastal regions without any worry of becoming distorted by chipping, cracking, warping, or splitting. Polywood® not only adds beauty to the interior of your home, but it also conserves energy in ways that no other window treatment can.
Environmentally Friendly Product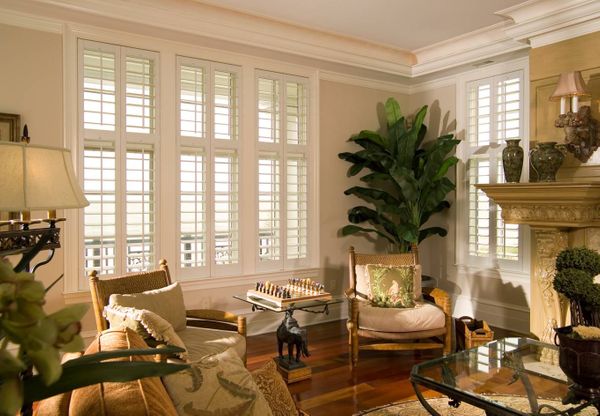 The manufacturers of Polywood® care about the environment, which is why their products are extremely earth-friendly. Wood shutters waste more than 50% of a tree before it gets to your window; however, Polywood® is made from recyclable material. Not only does Polywood® save the forest, but it also protects our oil reserves, as it is a by-product of natural gas, not petroleum.
Custom Fit to Any Window or Door
Polywood® shutters can be designed and manufactured to fit any size window or door. Whether you have an arch, octagon, circle, radius top, or any other architectural style, if you name it, we've already installed it to custom-fit and perform flawlessly. You can even have Polywood® shutters installed on French doors, as well as sliding doors. You can choose from frames that mount inside the window opening, or frames that mount on the wall around the window. The possibilities are endless! Better yet, Polywood® is also easy to maintain and clean. All you have to do is dust it or wipe it with a damp cloth — it's really that easy! Our experienced representatives can show you the best options for your home.
The Louvers on the shutters come in three sizes:
• 2.5" (Colonial Style)
• 3.5" (Traditional Plantation Size)
• 4.5" (Gives the Best View of the Exterior)
Polywood® Shutters Never Fade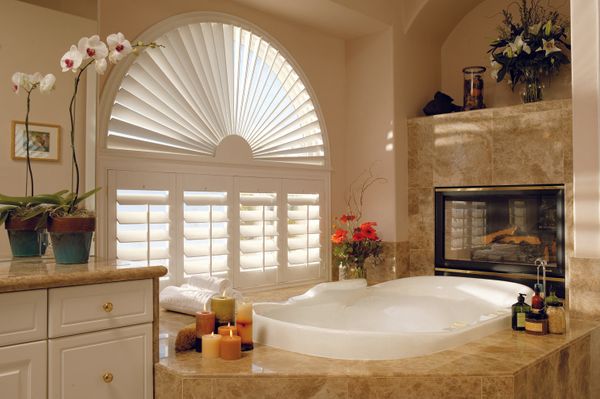 Polywood® has a special baked-on paint finish with a UV coating that will never fade. It comes in a smooth finish in three colors: White, Off-White, and Bright White. See colors and finishes in the options gallery below. Visit the Polywood® Painting Process page for more details.
Polywood® shutters come with the best warranty in the business in covering any manufacturing defects, finishes, workmanship, and installation for life. Our comprehensive warranty is backed by our 35+ years of experience in the shutter industry.
Call For A Polywood® Shutter Quote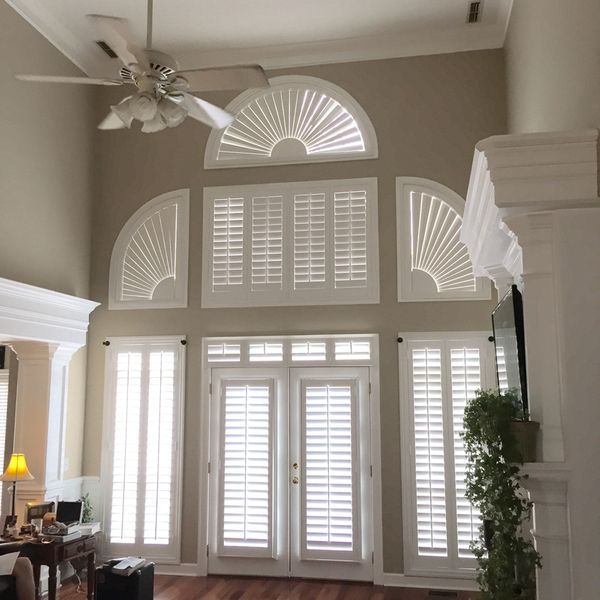 Proper installation is essential for your Polywood® shutters — just as important as the product itself. Our team will work with you to arrange an installation date that is suitable to both parties. The installation is carried out by The Plantation Shutter Company's professional shutter installation crew, who will make sure that each and every shutter is correctly fitted, and is operating correctly before leaving your premises.
Call us at (833) 823-3628, or reach out to us online to arrange an appointment for one of our professionals to come out to your home to give you an estimate. We also offer virtual consultations as well. Be sure to look for the Polywood® trademark because while others may call themselves Polywood®, there is only one true Polywood® product line.
Inexpensive & Excellent Installation
My wife and I used The Plantation Shutter Company for our shutters for all windows and doors...all 58 of them! I was shocked at how inexpensive the quote was. When the installers came, they had all of our junky string blinds down and the new shutters in place and operational in less than five hours. As it turned out, one was missing because at the original measure I was busy talking to the owner as he was measuring. The installers said they would measure and get it ASAP. Well, it was at our house and installed by close of business that day. We have had a minor problem since they were installed years ago and they promptly came out for the adjustment. Everyone I have dealt with from this company has been very prompt, polite and courteous. I highly recommend for great price, quality, and professionalism. DH Pawleys Island, SC
Beautiful Shutters & Considerate Team
I purchased Plantation Shutters from The Plantation Shutter Company, Inc. in Murrells Inlet. They were installed by 2 of the nicest, most considerate men I have had do work for me. Their work was immaculate and timely. My shutters are amazing. Beautiful- I feel like I have a new home. Thank you so very much. I highly recommend this business CS/Murrells Inlet
Neighbors Already Complimenting Us
We are so very pleased with both the interior and exterior shutters. Neighbors are already complimenting us on the new Bahama shutters. I'll be sure to pass on your name if anyone here is looking to add them to their house!
You, your installers, and Lisa have all been so helpful to us as we worked through this process!
Thanks again,
Nancy
Took the Time to Do an Amazing Job
"Our installer was very polite, professional, friendly, and knowledgeable about the product. He went out of his way to do a good job on one window, in particular, that was rather difficult. Would definitely recommend the product and people of this company to others!"
Thanks again, MA.
Very Impressed!
Very Impressed! Will do the rest of the house now after the first of August. Installation team was fantastic. Did exactly what you said you would do, when you said you would do it!! C.A. Pawleys Island
Customer -
Job Well Done
My wife and I wanted to pass along thanks for a job well done in installing new Plantation Shutters on our porch and our two guest bedrooms. When we moved here in July 2016 we decided to add Plantation Shutters to most of the windows in our home. You provided the same excellent sales and installation at that time. We delayed any other additions for a later date to have less of an impact on our budget. This year we had your business add Plantation Shutters to our porch and the guest bedrooms and we are thoroughly satisfied with the sales and installation. The shutters on the porch have totally changed the look of that space and all of this will no doubt add to the value of our home. Thanks again, Brian L Dowdy
Customer -
Shutters Are Wonderful
My shutters are wonderful. I use them all the time for blocking the sun during the day and for privacy at night. They work beautifully, just like the ones you installed for me in Savannah. They operate flawlessly. The paint is perfect. The installation is the cherry on top, just the perfect end to a very happy story. I am in awe of your work. I had begun to believe you couldn't get quality work. Now I know you just need to go to the best! Thank you, Betty Hahn