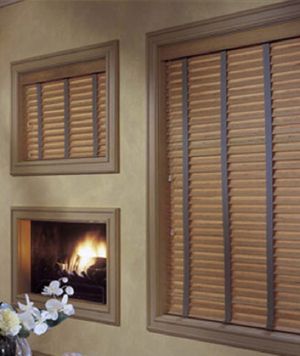 The Plantation Shutter Company offers a wide range of blinds that are manufactured from a variety of high-quality materials that come in a wide range of colors. Better yet, our blinds are suitable for those who are extremely budget-conscious to homeowners who want to add luxury and distinction to their home with premium blinds. Our collection of custom window blinds includes metal, hardwood, and faux wood blinds, and we also supply a range of vertical blinds.
Our custom blinds are designed and manufactured to fit your window spaces. The size of an individual blind can be anything from 8" to 96" wide and as long as 126". Our classic blind has a 2" deep slat, but they are also available with a 1" slat and a 2.5" shutter blind. Each individual blind comes with a hand-finished wooden valence for optimal beauty and long-lasting function. The blinds can be operated with a continuous cord loop system, which opens, closes, and adjusts the angle of the slats.
The Plantation Shutter Company's hardwood blinds are manufactured from top-quality basswood, known to some as limewood. With six designs and some 70 finishes, there is a combination to fit any décor. The blinds can be fully motorized and finished with custom tapes in lieu of the braided ladders, which are standard fittings.
Arrange a Consultation Today!
If you are ready to explore the best selection of blinds for your home or business in North or South Carolina, then contact The Plantation Shutter Company to get started! We offer free in-home or virtual consultations and our experienced window treatment experts can help you choose the perfect custom blinds. Contact us today!
Great Team & Quality
I just wanted to circle back and let you know how pleased we are with the blinds. The quality of the materials and the installation exceeded expectations. Definitely worth the (long) wait! Your installers were great as well.
Thank you for keeping everything on track for us. We appreciate it!
Customer-
Love my Shutters
Love my shutters from Plantation Shutters!!! Thanks so much!!! Gayle, Marlin Quay Condos
Customer -
Very Impressed!
Very Impressed! Will do the rest of the house now after the first of August. Installation team was fantastic. Did exactly what you said you would do, when you said you would do it!! C.A. Pawleys Island
Customer -
Job Well Done
My wife and I wanted to pass along thanks for a job well done in installing new Plantation Shutters on our porch and our two guest bedrooms. When we moved here in July 2016 we decided to add Plantation Shutters to most of the windows in our home. You provided the same excellent sales and installation at that time. We delayed any other additions for a later date to have less of an impact on our budget. This year we had your business add Plantation Shutters to our porch and the guest bedrooms and we are thoroughly satisfied with the sales and installation. The shutters on the porch have totally changed the look of that space and all of this will no doubt add to the value of our home. Thanks again, Brian L Dowdy
Customer -