Exterior Shutters for North and South Carolina
Beautiful and Practical Plantation Shutters
Exterior Shutters For North and South Carolina
Since 1987, the Plantation Shutter Company has been serving North and South Carolina as well as Savannah, GA with the best exterior shutters available. Our exterior shutters are a beautiful addition to any home and they provide ample benefits beyond cosmetics. They are an investment not only in your home's beauty, but in its safety, energy efficiency, and overall value on the real estate market.
We only carry the best in window coverings, so you can be sure that your shutters will last for the long haul. Our shutters will never fade and are very hard to break, thanks to our polymer composite material. Rain or shine, hurricanes or bugs, there's few things that our shutters can't handle. To learn more about all the ways that our exterior shutters can help your home thrive, read on, or contact us now!
The Added Benefits of Exterior Shutters:
Exterior shutters are an all around investment in your home. They're not something you necessarily need — unless you think that you need to protect your home and your financials, then they're something that folks in the south sometimes desperately need. Not only will they offer more comfort in your everyday life, but they'll also address the long term concerns of rising energy costs and protecting your home from the storms that the south knows so well.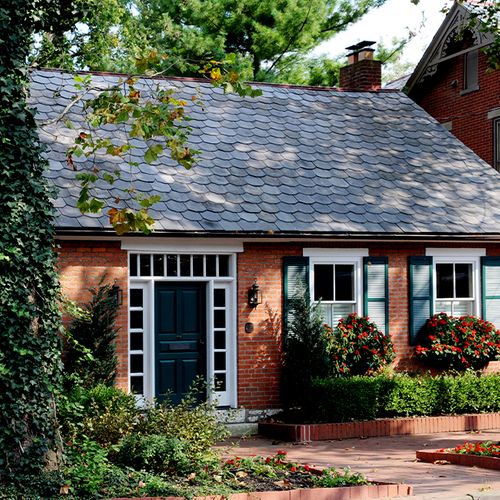 Curb Appeal
One of the most immediate benefits of getting new exterior shutters is the fact that it raises your curb appeal. Like many exterior renovations, shutters can provide a very high return on investment. As long as your shutters and your home stay in good shape, then the value of your shutter installation should rise right along with the value of your home. No matter what color you choose, one that has to be custom-painted or one of our stock colors, when you buy shutters from us, they never fade.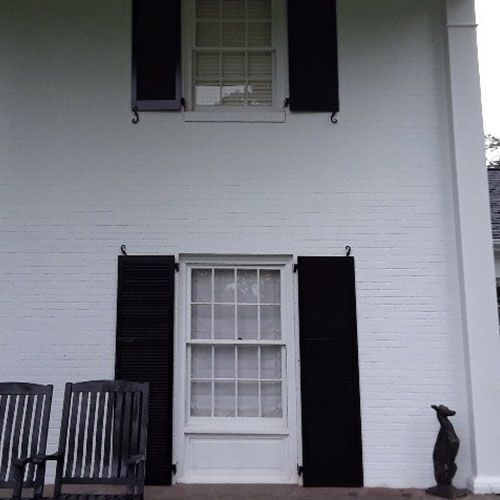 Increased Privacy
People who have never enjoyed the luxury of exterior shutters probably haven't thought about the added bliss of being able to essentially board up their home at any time. Hopefully you won't have to do this often, but exterior shutters give you the chance to block out both the elements and the eyes of others. They're great for those who are more modest, homebodies, or those that just want to have a movie night during the day!
Many plantation style homes have dozens of windows, and without plantation shutters you run the risk of them breaking. Not only will broken windows and flying glass be a danger to you during the storm, but the cost of replacing them could be a huge monetary burden. The window panes alone will cost you thousands when it's all said and done, and that's even before considering the cost of everything damaged by water and flying debris.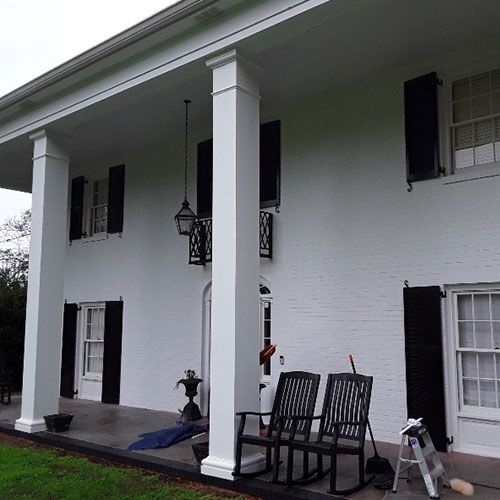 Energy Efficiency
The energy efficiency of your home increases immediately after installation of your shutters. They help keep heat out during the summer months and they hold heat in during the winter months. While the exact numbers and figures would vary depending on the size of your home and how much you make use of your exterior shutters, the fact remains that any use of your shutters will help keep your home insulated.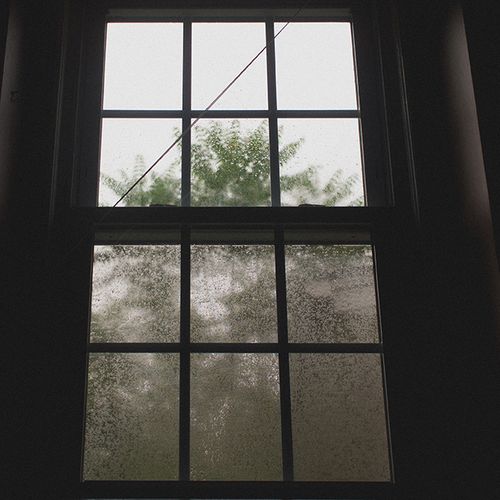 Weather Protection
Weather protection, in terms of sheer dollars, may be the most valuable function that exterior shutters can serve. In a close race with the savings offered by the energy efficiency aspect of shutters, weather protection from exterior shutters could save you thousands and thousands of dollars in the event of recurring hurricanes.
How Exterior Shutters Can Help Increase Your Energy Efficiency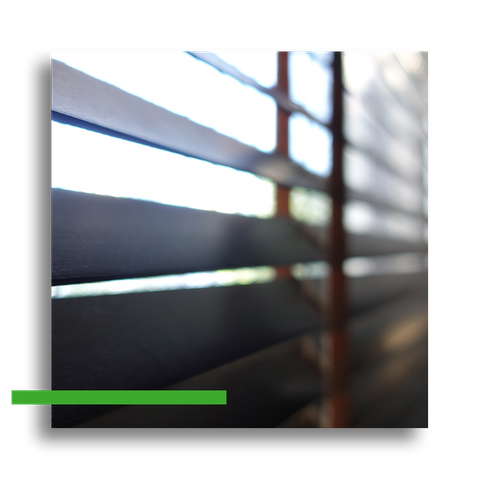 Energy efficiency is something that's becoming more and more important to homeowners. Taking the environment into consideration and providing the best value to our customers has always been one of the main focuses of the Plantation Shutter Company, and our Polywood® Plantation Shutters address both of those concerns. Made completely out of recycled materials, our shutters not only keep new materials from going to waste, but they keep money in your pocket just by using them efficiently.
While shutters might be common on many homes, real working and plantation shutters have seen a decline in use since the advent of heating and cooling systems. However, with more homes being more environmentally and financially cautious than they used to, actual, working shutters are coming back into the mainstream. With just a little extra diligence, you can see dramatically reduced heating and cooling costs just from opening and closing your shutters at the appropriate time.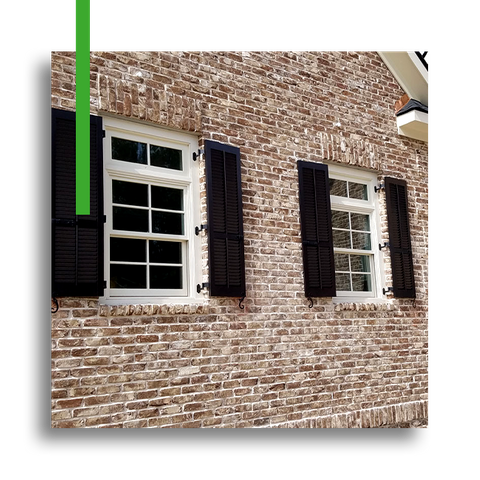 Like many insulators, the protection offered from exterior shutters is only as good as the material and the seal being used. In addition to opening and closing them at the right times, choosing shutters with fewer slats may be a good decision for those more interested in insulating their home with shutters than adding them for cosmetic reasons. Essentially what makes all shutters effective insulators is their ability to block out the sun when it's warm and to block out the wind when it's cold. With a better seal, or with fewer slats, you're likely to see more of those benefits.
Once you have the design of shutter you want, with the appropriate amount of slats or open spaces, the material is important as well in determining the energy-saving prospects of shutters. Shutters that are made of uncoated wood, for example, could see freezing or soaking that not only degrades the material, but that lowers its ability to block the elements as well. Those that are made of aluminum could be less effective for this as well, as they absorb both heat and the cold. However, with our polymer composite material, you never have to worry about your shutters freezing, decaying, or absorbing the heat and cold from outdoors.
Why Polywood is the Best Material for Exterior Shutters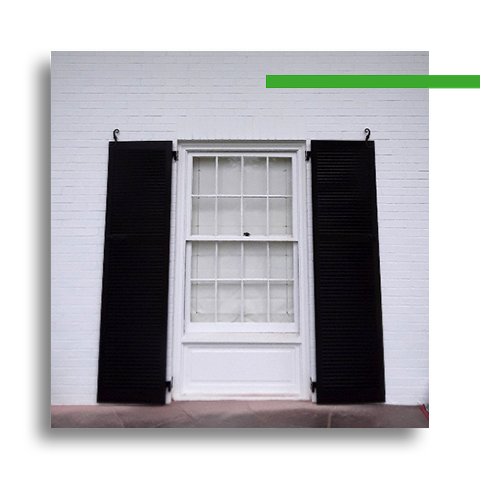 Polywood is a new word for many outside the home renovation industry, but there's a good reason that most professionals know what polywood is. It's one of the most durable materials available to us. The makeup of the polywood gives it special protection against the weather, and most of it is recycled materials. Laundry detergent and dish soap bottles are just a couple of the products that would end up in more landfills if it wasn't for the manufacturing of polywood shutters and other products.
The HDPE that Polywood is made up of gives it it's amazing insulating abilities and strength. The materials are cleaned, processed, and manufactured to produce a rigid, board stock material. The result is a product that is made up of over 90% recycled plastic by weight and that has an almost unmatched resistance to sun, snow, and winds. For your shutters, this means a near impenetrable barrier, barring something physically destroying them.
With our Polywood Shutters, you'll get shutters that: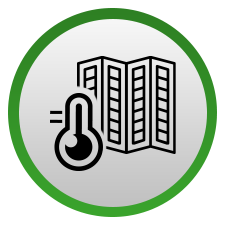 Reduce Heat Transfer
By reducing the amount of hot air and UV light that reaches your windowpane. Simply opening and closing the blinds at the right time of day can bring your cooling costs down significantly.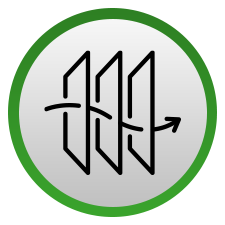 Stop Air Flow
Polywood can block up to 30 degrees of airflow from coming through your window. This is particularly effective in combating winter winds.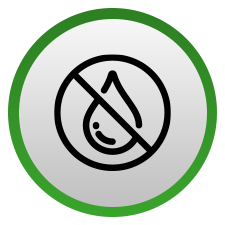 Resists Moisture and Humidity
Since it doesn't absorb moisture, shutters that are made of polywood are less likely to let humidity transfer into your home. This can be a huge asset to a home in the south.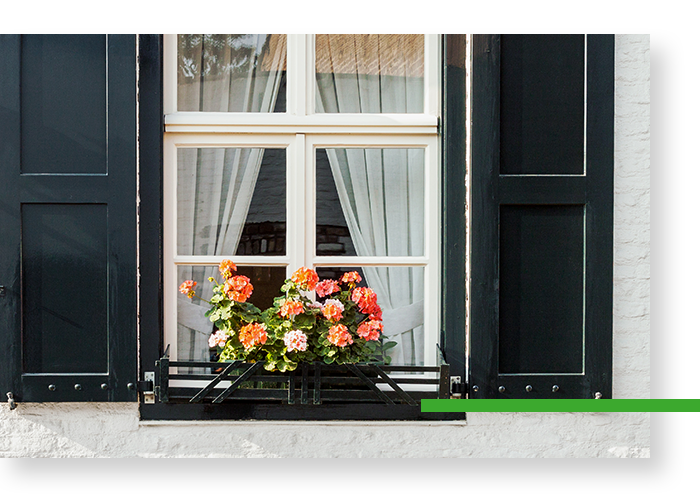 Other Common Questions About Our Exterior Shutters
Undertaking any home renovation can come with a ton of questions and concerns, and we don't want you to have any worries about your exterior shutters from the Plantation Shutter Company. Here are a few other things you might want to know about our exterior shutters before you buy:
How long does it take to install shutters? Depending on your home, this could take as little as an hour or carry into two days if you have a home with many windows to shutter.

How often will I have to paint my shutters? You should never have to be concerned with repainting or finishing your shutters, they will hold their color far into the future with just the occasional cleaning.

How will I clean my shutters? A soft rag, soap, and water is all you need to clean your shutters should you go with our typical polywood. It's not recommended that you use anything abrasive on your shutters, should you need additional cleaning power a small amount of bleach should do the trick.

Are my shutters protected? Yes! Every Plantation Shutter set is protected by warranty. Ask for more information on the length and details of your warranty when ordering.
Contact the Plantation Shutter Company Today
Are you ready to start protecting your home and saving some money? Then you might be ready to get your shutter installation! If you have any questions about the use and manufacturing of our products or if you want to make an appointment for your shutter installation in or around our many Carolina locations, then contact us today!
Exterior Shutters For North and South Carolina