Classic and Traditional Plantation Shutters

Custom-Made Classic Wooden Shutters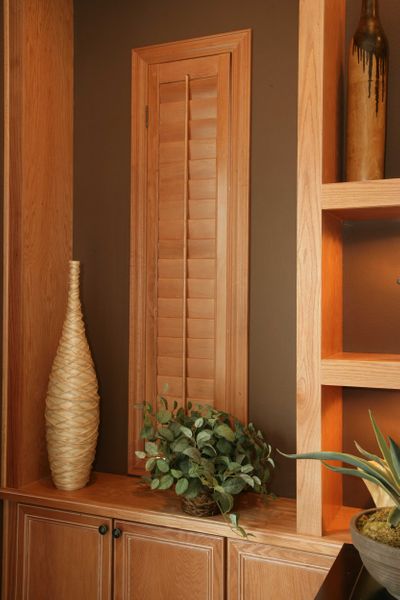 All our classic and traditional wooden shutter parts are kiln dried and sealed for moisture control. Each component of our traditional shutters is constructed from solid Bass wood. Bass wood offers a good grain pattern, and accepts stains evenly for a professional looking wood shutter. With our custom stain procedures, our wood shutters give you the option of matching the color of your shutters to chair rails, baseboard trim, or crown molding.
Wooden plantation shutters that are custom-made are among the most distinct window treatments around. The small movable louvers rotate to allow additional light and visibility and close for privacy and darkness. Traditional shutters are hinged in the window opening so they may be opened for maximum access to the window. Solid wood traditional plantation shutters are chosen by many homeowners to add warmth and comfort to any home.
Custom-made classic wooden shutters are more decorative in style and offer a wide variety of options to choose from.
Benefits of Plantation Shutters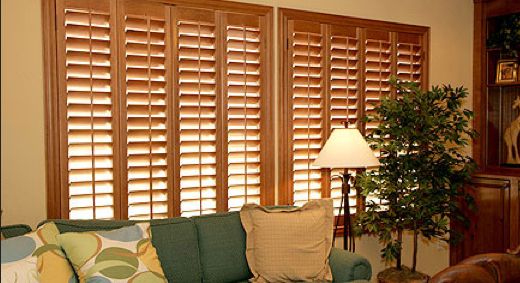 • Custom finishing is standard. We strongly recommend oil enamel paint. Oil enamel is far superior to lacquer. Your shutters will receive 3 coats with hand sanding between each coat.
• Custom staining is an option. We will make our best effort to match your de'cor.
• All parts are solid wood and kiln dried.
• Shutters are made from furniture grade poplar or basswood for staining.
• Available in louver sizes to fit your needs - 2.5", 3.5" or 4.5".
• Frame styles are available to fit any need.
• All multiple openings feature rabbet panels for proper closing.
• Mortised hinges are available for a better fit and to eliminate light gaps.
Love my Shutters
Love my shutters from Plantation Shutters!!! Thanks so much!!! Gayle, Marlin Quay Condos
Customer -
Very Impressed!
Very Impressed! Will do the rest of the house now after the first of August. Installation team was fantastic. Did exactly what you said you would do, when you said you would do it!! C.A. Pawleys Island
Customer -
Job Well Done
My wife and I wanted to pass along thanks for a job well done in installing new Plantation Shutters on our porch and our two guest bedrooms. When we moved here in July 2016 we decided to add Plantation Shutters to most of the windows in our home. You provided the same excellent sales and installation at that time. We delayed any other additions for a later date to have less of an impact on our budget. This year we had your business add Plantation Shutters to our porch and the guest bedrooms and we are thoroughly satisfied with the sales and installation. The shutters on the porch have totally changed the look of that space and all of this will no doubt add to the value of our home. Thanks again, Brian L Dowdy
Customer -