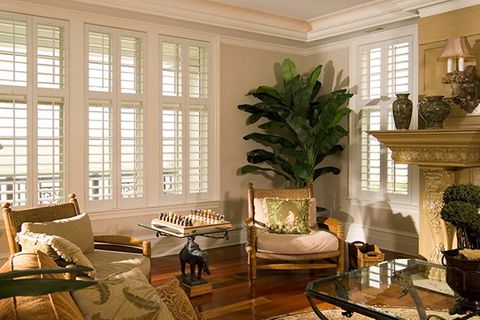 Custom Plantation Shutters in Murrells Inlet, SC
When you are ready to enhance your home's or business's interior or exterior spaces into something truly special, then The Plantation Shutter Company is here to help you. From our in-home or virtual consultations to the design, crafting, and installation of your plantation shutters, blinds, and other window coverings, we make the entire experience simple, easy, and convenient for you.
As a local, family-owned-and-operated shutter company, we are 100% committed to you. We're a community-focused business that is dedicated to designing, creating, and installing the very best custom window treatments. Since 1987, we have helped our friends and neighbors in the Murrells Inlet area and throughout the Carolinas find ideal custom window treatments that perfectly complement the style and aesthetic of their home or business.
Custom Window Treatments Designed Just for You
We design our custom window treatments according to your needs, style preferences, and budget to ensure you get exactly what you want. We offer a wide selection of window coverings for your interior and exterior spaces, including:
Reach Out to Your Local Shutter Experts Today
If you are ready to enhance the beauty, value, and energy-efficiency of your home or business, then connect with The Plantation Shutter Company to arrange your consultation. Derrick Temple is the founder of The Plantation Shutter Company and area representative for Murrells Inlet, South Carolina.
Mr. Temple is originally from Florence, South Carolina, and received his bachelors' degree from Clemson University. He and his wife live in Murrells Inlet, where they raised their two sons. Mr. and Mrs. Temple are dedicated to community service and have been active in their community for years. Mr. Temple has over thirty years of experience in the shutter industry and is excited to use his knowledge and expertise to help his friends and neighbors find the perfect window solutions. His impeccable eye for design and style can enhance the look and value of your home or business in both the interior and exterior spaces.
Please call or email Derrick Temple to schedule a free in-home or virtual consultation to explore your window treatment options. We invite you to stop by The Plantation Shutter Company ShowRoom located at 11750 Frontage Road, Murrells Inlet, SC, 29576.
If you'd like a free in-home estimate, or just have a question, fill your information in the fields below and someone will contact you shortly.