Wilmington's Best Shades, Blinds, and Shutters
Get Customization and Installation from Plantation today!
Wilmington, NC
Custom Plantation Shutters Serving the Wilmington, NC Area
At The Plantation Shutter Company in Wilmington, we know that you have many different options for blinds, shades, and shutters, and window coverings in general. We want to help you understand those options and help you get the best coverings for your Wilmington home. Our company customizes your blinds, shades, or shutters to your needs and what works best for your home. Whether you've just moved in, or you're looking for coverings to enhance your interior design, privacy, lighting, or energy efficiency, we'll help you find the best thing for you.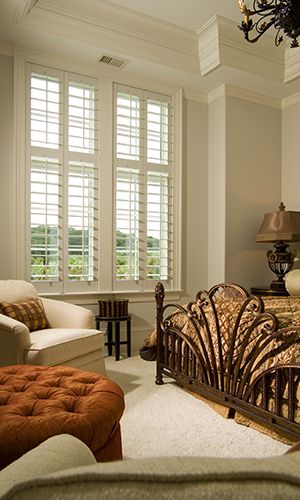 What You Receive From Plantation Services:
Consultation on design and practical needs

Some of the finest materials for blinds, shades, and shutters

Improved energy efficiency, privacy, and storm protection

Fast, hassle-free installation

A home with improved aesthetics, efficiency, and property value

Options including, Polywood Plantation Shutters, Classical and Traditional Plantation Shutters, Exterior Shutters, Shades, Blinds, and more
Get the Best Shutters, Shades, and Blinds With Plantation
Blinds — Blinds are one of the more basic window coverings, and they're a great option for anyone who wants window coverings that are easy to use and clean and that are adaptable to a number of different interior designs. Blinds — classified as "hard window coverings" — are made out of hard materials such as aluminum, wood, polywood, or plastic, and that stack into each other as you open and close them. They're a more functional option for certain rooms and businesses, but they bring less impact aesthetically.
Shades — Shades are another interior window covering that most people are familiar with, but not everyone realizes the differences between shades and blinds. Aside from being more of an asset in terms of design, shades are also typically made out of soft fabrics and may be referred to as "soft window coverings". They may also be made out of other woven materials, such as wood or bamboo, but they are all one continuous covering. Since shades lift up completely, and don't have adjustable slats, they provide less in terms of privacy and lighting control than blinds.
Plantation Shutters — Plantation shutters are an interior shutter that we love. Unlike under interior window coverings, plantation shutters offer a variety of options in terms of use. With Plantation shutters, you can easily swing open portions of the shutter or adjust the slats much like you would with blinds. This gives you maximum light and privacy control, and when the shutters are completely closed, you can be sure that you're improving energy efficiency in extremely cold or hot weather. The almost air-tight seal with your window's frame and the materials between your windowpane and the inside of your home will keep hot and cold air out for longer than soft materials or coverings that are more segmented.
Exterior Shutters — If you're living in Wilmington, then you may want to consider a quality set of shutters for your home. Living near the ocean, it makes it more of a priority that shutters be functional and not just cosmetic. While we offer raised panel shutters, those in Wilmington may be better off with a hinged, louvered shutter, Board-and-Batten shutters, or even shutters built for stormy weather. We have bermuda and hurricane shutters that can help keep your windows and family protected during hurricane season. Available in a variety of styles and colors, our exterior shutters are sure to increase your aesthetic appeal, safety, and property values.
Contact Your Local Shades, Shutters, and Blinds Rep
Leland covers a large portion of North Carolina including Raleigh, Durham, Chapel-Hill, Cary, Pinehurst, Greensboro, Wilmington and Winston-Salem. He is delighted to take care of any of your interior or exterior shutter needs. Leland has had the pleasure of calling the Triangle home for almost two decades. Originally from Pinehurst, NC, Leland is actively involved in the community and likes any activity that gets him outside. He and his wife Ashley reside in Northwest Raleigh and enjoy participating in many local cultural enrichment activities
If you'd like a free in-home estimate, or just have a question, fill your information in the fields below and someone will contact you shortly.