We've Got the Best Shades, Shutters, and Blinds in Greensboro, NC
Customize Yours Today With Plantation
Greensboro, NC
Custom Plantation Shutters Serving the Greensboro, NC Area
Sales Representative Leland McKeithen has had the pleasure of calling the North Carolina Triangle home for more than a decade. Originally from Pinehurst, NC, his background in residential real estate brings years of experience to The Plantation Shutter Raleigh area. Leland loves any activity that gets them outside and he is actively involved in the community. He resides with his family in Northwest Raleigh and enjoys participating in many local cultural enrichment activities. Leland would be happy to set up an in-home consultation to discuss all of your window covering needs.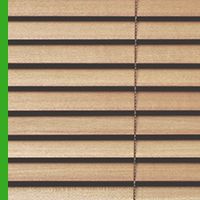 What The Plantation Shutter Company Can Offer in Greensboro
Blinds, shades, and shutters fully customized to you

Enhanced interior design appeal

Improved energy efficiency

Storm Protection

Enhanced Privacy
At The Plantation Shutter Company, we understand better than most how much of an investment window coverings are. While they significantly improve your quality of life in terms of temperature, light control, privacy, and aesthetics, window coverings do also cost quite a bit of money to cover a whole house. Countless times, we've had customers in North and South Carolina who outfitted their home with shutters, shades, or blinds, and then had to switch them out shortly after because they didn't meet their needs. We know window coverings aren't on-size-fits-all, and that's why all our coverings are custom made to match your home. Learn more about the different window coverings below and give us a call in Greensboro today!
Our Window Covering Options in Greensboro
Exterior Shutters — At The Plantation Shutter Company, we carry a wide range of exterior shutters, from options that are mostly cosmetic to those that offer superior protection for your home. From raised panel shutters that accent your home to hinged, louvered and Board-n-Batten shutters that offer extra privacy and storm protection. Our shutters come in a wide variety of colors as well as real wood and polywood materials, so we're sure to find something you like.
Blinds — Blinds are an interior window covering option that offers ease of use and many different customization options. Available in a variety of materials and colors, we can make unique blinds to match your interior design and taste. As a covering, blinds offer a high level of security control and ease of use. Depending on the material you use, you can affect their level of impact on energy efficiency in your home.
Shades — Shades and blinds are often confused and the terms used interchangeably, however, they are not the same. The biggest differences are in material, opening ability, and aesthetics. Shades are almost always made out of a woven fabric, and more recently materials like woven wood and bamboo, while blinds are made out of hard materials. Shades are more complimentary to soft, warm interior designs then blinds are, but they don't offer as much in terms of light control or privacy.
Plantation Shutters — Plantation shutters are shutters for the interior of your home. Our namesake window covering, these shutters offer the most in terms of privacy and light control as well as energy efficiency. Plantation shutters offer the ability to open sections of the shutter or open up slats like you would with blinds. The ability to open various sections, only open up one half of the blinds, and to close completely and tight to the seam of your window, are all features that only plantation shutters can offer.
If you'd like a free in-home estimate, or just have a question, fill your information in the fields below and someone will contact you shortly.