Charlotte's Best Interior and Exterior Shutters, Shades, and Blinds
Choose Plantation For Your Window Coverings
Charlotte, NC
Get Custom Plantation Shutters and More in Charlotte
If you're looking for a simple, stress-free way to upgrade the windows in your home or business, then our custom window treatments are for you! Since 1987, The Plantation Shutter Company has been helping our friends and neighbors in Charlotte and beyond transform their interior and exterior spaces with attractive window coverings. We custom-tailor our designs and installations to meet your needs so that you can enjoy all the short-term and long-term benefits of plantation shutters, blinds, and more.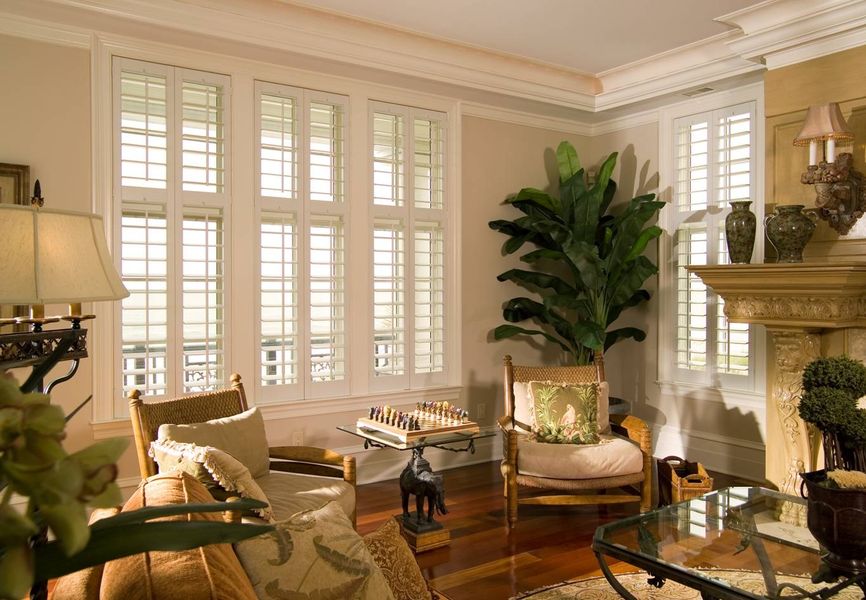 Window Coverings Designed Just For You
Window Coverings of All Kinds in Greenville
Get Blinds, Shades, Shutters and More With Plantation
In Charlotte, we know you have a lot of options for window coverings, and at The Plantation Shutter Company, we want to help you better understand those options before you make a purchase for window covering installation. Whether it be shades, shutters, or blinds you're considering, there are actually some subtle and significant differences between the different types of coverings.
Blinds - Blinds are perhaps the most basic of window coverings. They're a very functional window covering where you can easily adjust for the amount of light and visibility you'd like from the blinds. They also benefit your energy efficiency, to varying degrees based on materials, by blocking out sunlight and temperature from the outdoors. At The Plantation Shutter Company, we offer blinds in a variety of colors and materials, so you can get custom blinds that match your style and needs.
Shades - Shades are a more luxurious option of window covering. They differ from blinds in a few ways, the most major being that they are usually made out of one continuous piece of fabric. While this takes away from the degree of light and visibility control provided by blinds, it offers more in terms of aesthetic appeal thanks to the variety of fabrics, prints, and textures available. If you rarely open your blinds and love interior design, shades may be the better option. We have a variety of shades that combine style and functionality, from Roman shades to roller shades and cellular shades.
Exterior Shutters - Without exterior shutters, your home's windows are susceptible to breaking during a violent storm. While they offer aesthetic appeal most of the time, exterior shutters are the type of investment you'll be happy you made when you finally need it. One of the only physical protections for windows, exterior shutters keep windows from shattering in the case of a violent storm. The Plantation Shutter Company offers many different styles to compliment your home, from louvered to board and batten, we can give your home a rustic or bright, modern look as well as storm protection.
Plantation Shutters - Keeping prying eyes, unwanted light, and the outside temperature from coming into your home is easier than ever once you install plantation shutters. Plantation shutters can open and close completely or in sections, so you can have light where you want it and block it out where you don't. Because of their ability to close up completely, they also offer more storm protection and energy efficiency than other interior window coverings. We offer our namesake shutters in a variety of colors and materials, all customized to your windows and needs.
Arrange a Free Consultation In Charlotte
We're excited to help you enhance your home's appearance and value with stunning custom window treatments tailored to your specifications. If you are ready to get started, contact us today to arrange a free consultation with your Charlotte representative.
Andrea Ward is your local sales representative in Charlotte, NC, where she has been the sales and design consultant for The Plantation Shutter Company for more than 12 years. As a leading window treatment company proudly serving Charlotte and its surrounding area, we can help you get the classic look of plantation shutters, Polywood® shutters, and more, all while improving your home's energy efficiency. Contact our Charlotte representative to schedule a free in-home or virtual consultation for all of your window treatment needs.
If you'd like a free in-home estimate, or just have a question, fill your information in the fields below and someone will contact you shortly.