Chapel Hill's Best Choice For Blinds, Shutters, and Shades
Find the Right Covering for Your Windows
Chapel Hill, NC
Custom Plantation Shutters, Blinds, and Shades in the Chapel Hill, NC Area
Sales Representative Leland McKeithen has had the pleasure of calling the North Carolina Triangle home for more than a decade. Originally from Pinehurst, NC, his background in residential real estate brings years of experience to The Plantation Shutter Raleigh area. Let him help find the perfect coverings for your home today.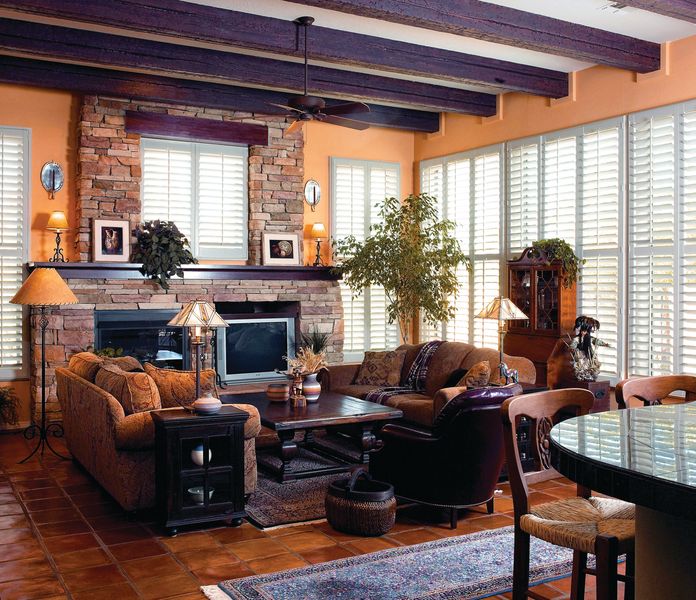 How Leland and The Plantation Shutter Company Can Help
Get Window Blinds, Shutters, Shades and More With Us In Chapel Hill
Window coverings seem simple at first glance, but at The Plantation Shutter Company, we know how big of a difference they can make to a homeowner. Coming in a variety of types, there's something to be said about the value that each brings to a home; as blinds, shades, and shutters all bring something different to the table. Here's a little more about each and what we have to offer in Chapel Hill!
Blinds - The most traditional interior window covering, blinds are a basic window covering that offer a good amount of light and visibility control. They are typically made out of hard materials and formed by slats that stack on top of each other. We offer horizontal and vertical blinds in a variety of materials, and can customize them to fit your wants and needs. From aesthetic appeal to energy efficiency, well address all your concerns to get something that fits you.
Shades - Another interior window covering, shades and blinds are easy to confuse with each other, so much so that some people use the terms interchangeably. However, there is one easy way to tell the difference between the two — shades are typically one continuous piece of soft fabric. They often roll up or fold up and are usually completely opaque. These fabrics offer more in terms of different styles, but don't offer as much flexibility in terms of light and visibility control. At The Plantation Shutter Company, we carry many types of shades to match a variety of interiors, including cellular shades, roman shades, roller shades, and more.
Exterior Shutters - Having shutters on the outside of your home is a great way to not only add curb appeal, but to protect your windows as well. One of the only true physical protection for your windows, exterior shutters can keep you protected from broken glass and repair costs. Available in a variety of styles, such as Bahama, louvered, and hurricane, our shutters can give you a classic look and protect your family.
Plantation Shutters - The best of the interior shutters in our opinion, plantation shutters are a great way to maximize the protection offered by your window coverings. They offer the most in terms of light and visibility control, being able to close up completely with a tight seal to your window frame or open in sections. They help protect from the elements as well, adding energy efficiency as a barrier to outside temperatures and providing protection from broken glass or other debris during a serious storm. We offer plantation shutters made out of real wood or our Polywood® material, for the most efficient and best looking shutters.
Contact Your Plantation Shutter Representative Today
If you've thought your house could use new window coverings or that you could use a change in interior design, then The Plantation Shutter Company can help. Reach out to us today at the number below. Leland would be happy to set up an in-home consultation to discuss all of your window covering needs.
If you'd like a free in-home estimate, or just have a question, fill your information in the fields below and someone will contact you shortly.