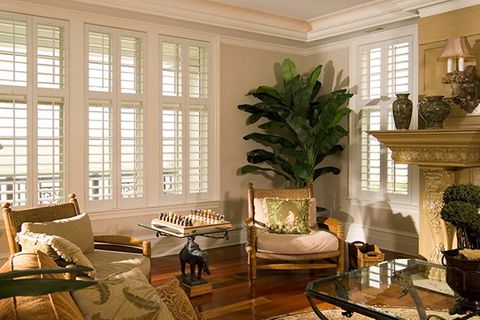 Custom Plantation Shutters in Hilton Head, SC
If you've been thinking about transforming the interior or exterior spaces of your home or business into something stunning for a lasting impression, then The Plantation Shutter Company is here to help you. Since 1987, our design team has helped our friends and neighbors in Hilton Head and throughout the Carolinas create an ideal home interior or exterior style that complements the overall look and feel of the home's aesthetic.
Our Steadfast Commitment to Excellence
With more than 30 years of experience in designing, manufacturing, and installing exceptional custom window treatments, we are committed to excellence in everything we do. As a local, family-owned-and-operated shutter company, we're determined to create the highest quality designs for your home or business that you will absolutely love for years to come. We strengthen our designs and installations with friendly, knowledgeable service because we genuinely care about the people in the communities we serve. Explore our window treatments and connect with us to schedule a free in-home or virtual consultation.
Custom Window Coverings Tailored to You
We collaborate with you to create the perfect designs to complement your home's interior or exterior spaces. Our products include:
Schedule Your Consultation Today
Are you ready to transform the overall look and feel of your home or business? Then reach out to The Plantation Shutter Company to schedule your consultation today. Barry Coulter serves The Plantation Shutter Company for the Hilton Head, South Carolina, area. Since joining our shutter company in 1995, Barry is a highly qualified and knowledgeable expert in all of our window treatment options. He is passionate about helping you find the perfect solution to complement the beauty, functionality, and energy efficiency to enhance your home. Additionally, we tailor your custom window coverings to work with your budget for maximum cost-effectiveness.
Please call or email Barry to set up your free in-house or virtual consultation.
If you'd like a free in-home estimate, or just have a question, fill your information in the fields below and someone will contact you shortly.