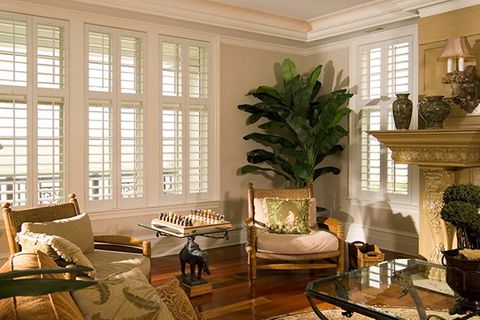 Custom Plantation Shutters in Greenville, SC
The Plantation Shutter Company has proudly helped our friends and neighbors in Greenville optimize their homes and businesses with beautiful plantation shutters and custom window treatments since 1987. Our goal is to help you find the perfect window coverings that compliment your style and décor, all while making your home more comfortable and energy-efficient. When you are ready to give your windows the treatment they deserve, we will be there to streamline the process, making each step fun and stress-free for you and your family.
Plantation Shutters and Window Treatments in Greenville
As Greenville's premier experts in custom window coverings, we offer an array of treatments, styles, and customizable options to help you achieve your goals and make a lasting impression. We understand that installing exterior and interior shutters, shades, and blinds is an investment, which is why we want you to feel 100% confident with options you choose. Our friendly and experienced shutter expert will work closely with you to find the perfect solution for your home or business. From the design, construction, and installation, we'll help you every step of the way. Explore your window treatment options below:
Schedule a Free Consultation in Greenville
When you are ready to compliment your home's beauty and value with exceptional shutters and window coverings, connect with our shutter company to get started. Amy Kimbell is your local sales representative in Greenville, SC. The Plantation Shutter Company serves Greenville and its surrounding areas helping you to get the timeless look of plantation shutters, exterior shutters, and more, as well as the energy-saving advantages that comes with them. Contact our Greenville representative, Amy Kimbell, and she will get you started with any of your shutter or window covering needs, answer any questions, or schedule a free in-home consultation and estimate.
If you'd like a free in-home estimate, or just have a question, fill your information in the fields below and someone will contact you shortly.