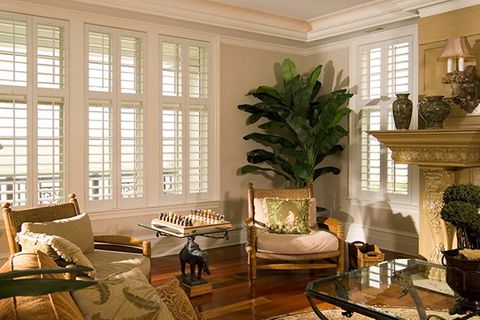 Custom Plantation Shutters In Columbia, SC
For more than 30 years, The Plantation Shutter Company has been helping our friends and neighbors in Columbia, South Carolina, and surrounding areas transform the look and feel of their homes and businesses. As your premier local shutter company, our window covering experts work with you to find the best solution for your windows. Our goal is to enhance your aesthetics, style, comfort, and energy-efficiency of your home with window treatment options that are unmatched in quality, construction, and longevity.
Our Plantation Shutters and Custom Window Coverings
During your consultation, your friendly and knowledgeable shutter expert can help you find both interior and exterior window treatments that are perfect for your home and budget. With literally hundreds of options, we are certain you will find just what you are looking for in plantation shutters and other window treatments. Our impressive selection of window coverings include:
Schedule a Free, No-Obligation Consultation in Columbia
If you're looking for an excellent way to upgrade the look and feel of your home, then it's time to give your windows the treatment they deserve — and we're excited to assist you in the process!
Andrea Ward is your local sales representative in Columbia, SC, where she has been the sales and design consultant for plantation shutters and custom window treatments for more than 12 years. The Plantation Shutter Company serves Columbia and its surrounding areas, helping you to get the classic look of plantation shutters and exterior shutters, along with the energy benefits that come with them. Contact our Columbia representative, Andrea Ward, and she will help set you up with any of your shutter needs, answer any of your questions, or schedule a free estimate.
If you'd like a free in-home estimate, or just have a question, fill your information in the fields below and someone will contact you shortly.