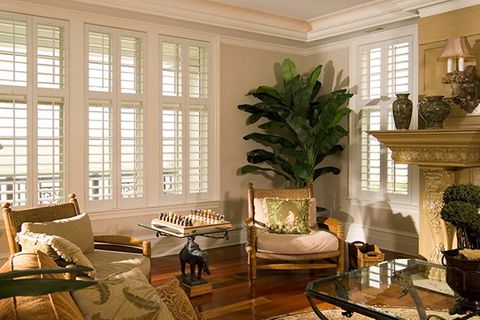 Custom Plantation Shutters In Charleston, SC
When it comes to window coverings for your home or business, you want to find the very best options to ensure quality, durability, longevity, and beauty. At The Plantation Shutter Company, we have been designing and installing custom window treatments for more than 30 years. In that time, we have built lasting relationships with our customers because we are genuinely passionate about what we do. If you are looking for plantation shutters, blinds, shades, and more, we have you covered. Explore your options below, and connect with your local shutter and blind expert to schedule your free consultation today!
Our Stunning Custom Window Treatments
The Plantation Shutter Company specializes in a range of custom window treatments that can add beauty, comfort, and value to your home or business. Our goal is to help you enhance the beauty of your home while enjoying the additional benefits that window coverings offer. From making your home feel more comfortable to improving your home's or business's energy efficiency, there are so many advantages you can enjoy from our high-quality shutters, shades, and blinds. Our vast selection of window treatments include:
Connect with Charleston's Favorite Shutter Company
If you are ready to elevate your home's interior or exterior spaces, then you will want to explore our plantation shutters, blinds, and shades. Connect with our shutter specialist to arrange a free consultation. For more than 17 years now, Barry Coulter has been serving The Plantation Shutter Company in the greater Charleston, South Carolina, area and beyond. He will find you the perfect interior and exterior plantation shutters to compliment the beauty of your home while improving your home's energy efficiency. Please call or email Barry to set up a free consultation. He looks forward to assisting you in optimizing your home's value, comfort, style, and energy-saving potential.
If you'd like a free in-home estimate, or just have a question, fill your information in the fields below and someone will contact you shortly.